You've finally moved to your dream home and you quickly notice how difficult, if not impossible, it is to remove rust and hard water stains from your porcelain bathtubs, toilets and sinks. You also find that your washing machine and dishwasher are discolored and that your whites are beginning to yellow, or there are iron water stains on your clothes.
You may be one of the more than 13.5 million American households that rely on private wells for drinking water. Despite the budget savings of having unlimited access to water with no monthly water bill, one of the downfalls of relying on a hard water well is the inevitable rust and hard water stains.
Or you may be receiving municipal water and the water supply may also be from groundwater. This can also lead to the same hard water issues with the added bonus of having to pay for it.
beinganadultishard.com is a participant in the Amazon Services LLC Associates Program. As an Amazon Associate I earn from qualifying purchases. Please see our Disclosure Policy for more information.
What causes orange rust and hard water stains?
Groundwater is pumped from aquifers found below the earth's surface. The aquifers collect groundwater through rain and snow melt that flows underground through rock, sand and soil. Minerals like calcium, magnesium, lime, and iron dissolve into the water as it flows, resulting in hard water – water that has a high mineral content.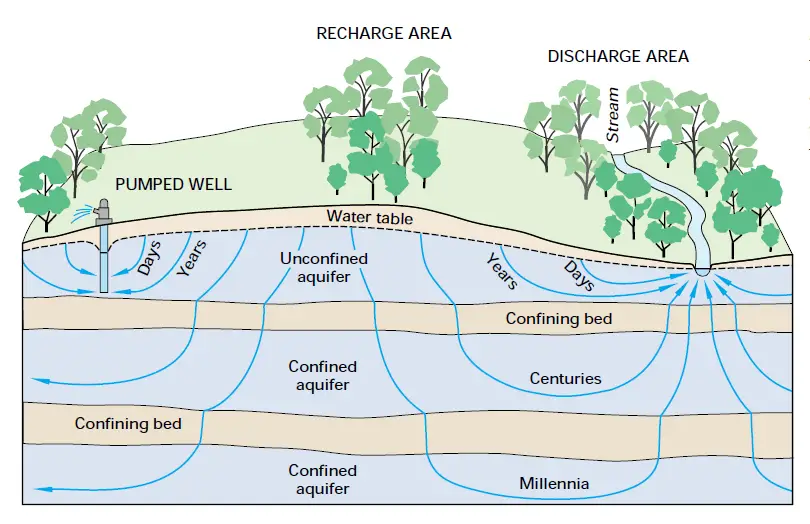 The iron becomes oxidized when exposed to air and can leave a reddish/orangish/brown stain on porcelain bathtubs, toilets, sinks, shower walls and glass doors. Calcium and magnesium in water leave hard deposits on fixtures and appliances that are resistant to most cleaning products.
Iron water stains can appear on your clothes as well, especially whites, making them look yellow and dingy.
What ONE thing quickly removes hard water and rust stains from porcelain tubs, toilets and sinks?
Citric Acid is the secret ingredient that easily removes hard water and rust stains from porcelain tubs, toilets and sinks. It is a safe, natural, non caustic, environmentally friendly, biodegradable solution to the problem of rust and hard water deposits.
Citric acid works by softening hard water and dissolving the minerals that cause staining. It also lowers the pH levels of bacteria, removing mold, mildew, and bacteria. It's a safe and effective choice for your family, your pets, your plumbing and your septic system (if you have one).
Citric acid is a weak organic acid that is found naturally in citrus fruits. The acid gives citrus fruits their sour taste and is most concentrated in lemons and limes. Pineapple and berries also contain minimal amounts of citric acid.
Synthetic food grade citric acid is commonly added to processed and packaged foods as a preservative. It is also used to give certain foods and beverages a sour taste.
Citric acid is also effective as a solvent for cleaning rust stains as it dissolves the alkaline minerals that cause rust and hard water deposits.
How to remove iron from well water on bathtubs, sinks, and toilets using citric acid
To remove rust and hard water stains from porcelain bathtubs, sinks and toilets, simply dissolve a tablespoon of citric acid into a spray bottle containing hot water. Shake the bottle to dissolve the citric acid, and spray your tub, sink and/or toilet.
Let it sit for 5 or 10 minutes and then simply wipe the stains away! Light stains may not even require wiping, just rinse them right off with water. The solution is also effective for removing scum from stainless fixtures and leaves them looking shiny and new.
Stubborn stains may require two or more treatments, depending on how long they've been there. The picture above required 3 treatments. If rust stains are on a vertical surface such as a shower wall or textured glass door, add a teaspoon of Dawn dishwashing soap with the citric acid before shaking the spray bottle. This will create suds that will help the solution stick to the surface.
You can also use it on tile or fiberglass shower walls. Mix 2 tablespoons of citric acid in 1 quart of water and spray lightly on tile and grout after showering to prevent build up of hard water residue.
Note that citric acid can irritate sensitive skin and eyes. I recommend using gloves if you have sensitive skin and only using in a well ventilated room.
How to remove hard water stains from your toilet bowl
If the method above doesn't work to remove well water stains from your toilet bowl, try turning off the water supply and flushing the toilet to empty the bowl. Pour a solution of 2 tablespoons of citric acid mixed with a gallon of hot water into the empty toilet and let sit for 10 minutes.
Scrub the toilet vigorously with your toilet brush, paying particular attention to the rim and the drain near the s-trap. If the toilet brush alone doesn't remove all the stains, try using a pumice stone with a handle to remove any remaining stains. Don't forget to turn the water back on when you're finished.
How to remove mineral and lime deposits from showerheads
If you have a removable showerhead, you can fill a small bucket with hot water and mix in 2 tablespoons of citric acid. Place the bucket in your tub and place the showerhead in the bucket. If your showerhead is not removable, fill a small plastic bag with hot water mixed with 2 tablespoons of citric acid and use an elastic band to secure the bag to the showerhead.
Let the showerhead sit in the solution for an hour or 2, or even overnight. Use a stiff brush to scrub off any excess buildup and then run water through your showerhead. This should dissolve any deposits from your showerhead and leave you with much stronger water pressure.
How to remove iron water stains from clothes
As explained above, iron is dissolved in groundwater and it oxidizes once it hits the air. This leaves particles of iron floating in your laundry water. Citric acid conditions or softens the hard water, removing the iron.
Add a tablespoon of citric acid to each load of laundry. This boosts the cleaning action of your laundry detergent, helps to make whites whiter and helps remove iron water stains from laundry.
BONUS TIP: If you have hard water, do NOT use bleach in your laundry. Chlorine bleach produces iron oxide (rust) when combined with hard water and will stain your clothes.
How to remove iron stains and mineral deposits from washing machines
If you are noticing yellow or orange rust stains or mineral deposits in your washing machine, simply run an empty load in the machine with hot water and ¼ cup of citric acid. I run this cycle once every week or two, depending on how many loads of laundry I'm doing.
How to remove iron stains and mineral deposits from dishwashers
To clean iron stains and mineral deposits from your dishwasher, run an empty cycle on hot water, putting the citric acid in the detergent receptacle to be released at the most effective time. Don't run the drying cycle when running an empty load.
You can also add ⅓ cup of citric acid to each dishwasher load to prevent hard water spots and film buildup on your dishes. It also aids your dishwasher detergent in cutting grease.
How to remove mineral deposits from kettles, coffee makers, irons, and humidifiers
Kettle: Add 2 tablespoons of citric acid to a ¾ full kettle and bring to a boil. Empty the kettle and rinse out all sediment.
Coffee maker: Run 2 tablespoons of citric acid in a pot full of water through a cycle of your coffee maker to remove calcium buildup. Finish with running a clean distilled water cycle.
Iron: Dissolve a teaspoon of citric acid in a cup or two of hot water. Dip a clean cloth into the mixture and use it to wipe down your cold iron. If you have a clogged steam iron, pour some of the solution into the iron and use the steam function. The mixture should unclog the openings and release the steam.
Humidifier: Add a few tablespoons of citric acid to the water (depending on volume) before putting it into the machine. This will help prevent mineral buildup.
How to prevent hard water stains
To prevent hard water rust stains and mineral buildup, it's best to keep your showers, bathtubs, and sinks dry and clean. Be sure to spray them with a solution of 2 tablespoons of citric acid to a half gallon of water after every use.
Let it sit for a few minutes and then wipe all surfaces dry. If hard water sits long enough to dry, evaporation will result in more mineral buildup and rust stains.
If this seems like too much work, you may want to look into getting a water softener to eliminate the hard water issue entirely. The Whirlpool WHESFC Pro Series – Softener/Whole Home Filter may be the solution for you.
This water softener and whole home filter system is reasonably priced, prevents scale from forming in your home's pipes, and leaves less residue on water using appliances such as dishwashers and washing machines.. It is a maintenance-free unit that doesn't require new filters. All you have to do is add salt as needed. Click on the picture above to get more information and to see customer reviews.
Do you know of any other frugal and natural solutions to remove rust and hard water stains from bathtubs, sinks and toilets? Let us know in the comments.