Do you hate cleaning your floors as much as I do? Do you spend a lot of time trying to figure out how to make it easier? I have recently discovered the easiest way to clean floors is by using the best floor cleaning machines that money can buy to do all the work for you!
The old fashioned way of cleaning floors was so labor intensive and involved so many steps. I had to clear the floor, sweep or vacuum the floor and THEN I got to wash the floor. And don't forget to rinse!
I needed to lug a bucket around and keep filling and emptying the bucket and wringing the mop. It was all just so awkward, took too much time, and left me sweaty, annoyed and swearing.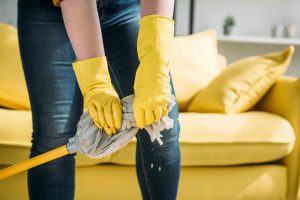 On top of that, I had to make sure my laminate and wood floors were dried completely to avoid water damage.
Lucky for us, we live in an age where robots and other cleaning tools have been built for everything, including cleaning floors! You can have more time to relax and do something you enjoy and leave the bulk of the work to your electronic floor cleaner.
As an Amazon Associate I earn from qualifying purchases. This means if you click on a link and buy something I've recommended, I get a small commission at no additional cost to you. You can see my full Disclosure Policy here
Why do floors get so dirty?
In my case, it was simply that I didn't clean them enough (because I hated it). When I finally did get around to cleaning my floors, I was usually exhausted and sick of cleaning by the time the floors were cleaned and didn't always do a final rinse. It felt like all I was doing was moving dirt around and not really getting the floors CLEAN.
Then I tried to avoid the old mop and bucket routine and used a Swiffer Sweeper and WetJet system. It was definitely easier and quicker, but I found that the cleaning solution built up on my floors, left them looking cloudy and streaky and left footprints when I walked barefoot on them. I also wasn't crazy about the cost of buying the cleaning solution and the environmental impact of all those disposable pads.
This led me onto the path to finding the best floor cleaning machines for my home. There are so many products out there that will do the bulk of the work for you, depending on the type of flooring you have. 
Related post: Time-saving cleaning hacks for people who hate cleaning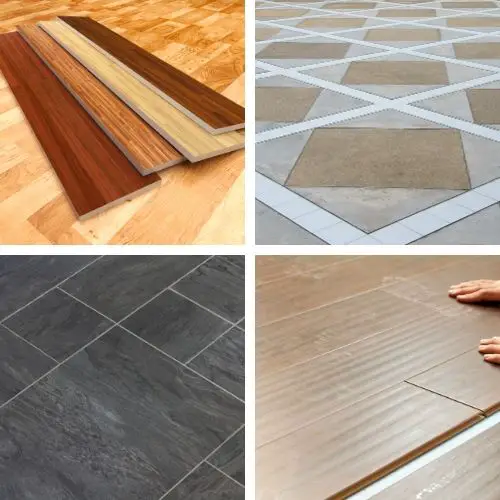 Identify the types of flooring you have to determine your needs
I live in an older home with a combination of tile, wood, laminate and vinyl floors. So I went on a search for the best floor cleaning machine that would work on all of them. I was also looking for something built with pets in mind because I have a dog who drools and sheds and tracks pawprints all year round.
My criteria included:
I wanted to avoid having to use 2 separate tools to clean my floors, so I looked for the best floor cleaning machine that could both vacuum and wash the floor at the same time. 
I also wanted a floor cleaning tool with a rechargeable battery and a decent charge time to avoid having to switch plugs every time I changed rooms (I really am lazy).
I needed something that would clean all my hard floor surfaces without damaging them. For example, water shouldn't sit on laminate or wood floors for any length of time
I wanted something self-cleaning because I hate cleaning. If I'm going to make that kind of investment, it better be worth it and have all the bells and whistles.
RELATED POST: 21 Unbelievable Cleaning Uses for Citric Acid Powder
I went looking for a  floor cleaning machine that could do it all – vacuum, sweep and wash all of my floor surfaces and found the Roborock S6 Robot Vacuum. This was an investment I was willing to make, as it was either find something that could do it for me or find someone to do it for me. This was the more economical option between the two, over time.
The Roborock S6 Robot Vacuum really did have all the options I wanted, and then some. This cool little gadget can vacuum carpets and floors and it washes your floors for you too!
It's a 'learning' robot, which means it maps out the rooms it's used in to clean them more efficiently. It can also clean only the rooms you want and you can specify different schedules for different rooms for different days. It works with Alexa (optional) and even has its own app to edit the mapping or block off rooms!
On the days you need it to wash the floors, just attach the mopping tray and dampened cloth to the Roborock S6 Robot Vacuum, fill the reservoir, and let it go. Be careful that it doesn't go onto your carpets when it's in mopping mode as it can't switch that function off by itself.
The unit is very quiet and the battery lasts up to 3 hours. Plenty of time to clean all the floors in my 1400 sq ft house. And, if it senses the battery is running low, it will make its way to the docking station and start recharging itself!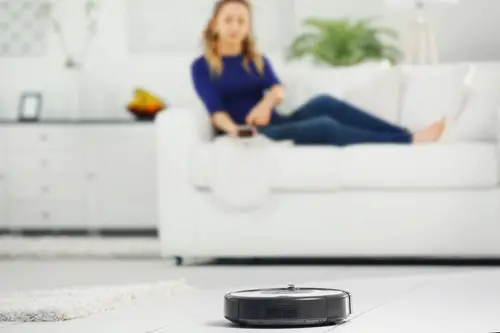 I had previously owned a budget-friendly older model iLife robot vacuum that was adequate, but the Roborock S6 Robot Vacuum blew it out of the water with all of its features. The only downside is I still have to empty the filter compartment regularly, but it tells me when it needs it.
This really is the best floor cleaning machine I have ever used. It keeps the floors clean on a regular basis and leaves them barefoot friendly, which is my favorite! 
While I absolutely love the Roborock S6 Robot Vacuum, we had a slight problem remaining. We live on farmland – with a dog. Muddy pawprints from the dog and footprints from the rest of us create an awful lot of dirt, not to mention the tumbleweeds of fur and endless dust. I wasn't totally convinced that all the dirt was getting washed from the floors.
I decided I needed to find something that could do an occasional, more in-depth cleaning (like before guests come over).
Updated to add that they now make a self-emptying robot floor cleaner! Unfortunately, this option doesn't have a mopping function. But I find the tradeoff is fine to not have to empty the tray on the daily. I just use the floor cleaning tool below when necessary as the floors don't get really dirty!
RELATED POST: 22 Best House Cleaning Tools that Make Cleaning Easier
The CrossWave Cordless Max vacuums and washes floors at the same time. It's cordless with a battery life of up to 30 minutes. 30 minutes is plenty when you're the one moving the machine. 
It's lightweight and easy to maneuver. It works well for pet hair and picks it up from baseboards, under cabinets and in corners. There's even a strainer for the dirty water tank that collects the fur.
It's easy to operate. You press the button and the machine squirts water from the clean tank and turns on the roller to clean the floor. Then it turns on the suction to suck up the dirty water. This floor cleaning machine is so easy to use!
The CrossWave Cordless Max is self-cleaning, though you do have to take it apart, empty the dirty water, and clean the roller occasionally. It's quiet and leaves your floors clean and streak-free and they are dry within seconds.
This is not a cheap machine but, as stated above, the investment was worth it to me for the convenience. It saves me lots of money by eliminating the need to hire someone else to do the work for me.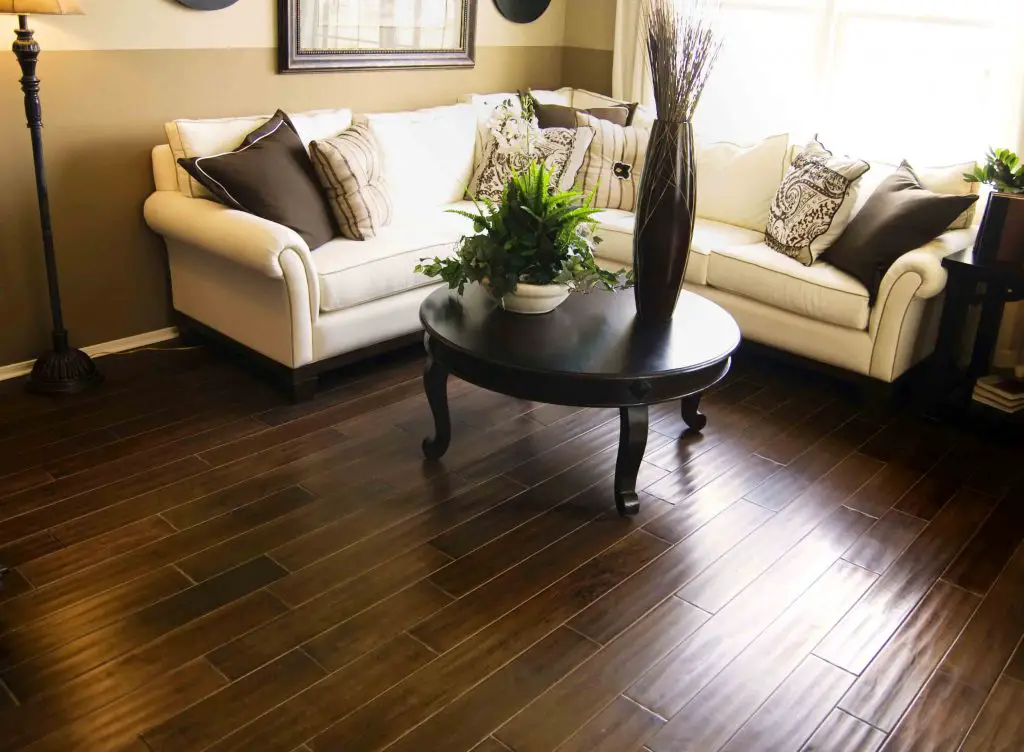 RELATED POST: 33 Awesome cleaning hacks for lazy people
Tips for keeping your floors clean
Obviously, the first tip is to buy the best floor cleaning machines noted above and use them on a regular basis. This sets the foundation for clean and shiny floors.
Use mats at all doors to catch any dirt that makes its way inside. Shake them outside regularly.
Leave all shoes in trays at the door. This prevents dirt being tracked around the house. Shake out the trays regularly.
Clean spots and spills immediately. The longer it sits, the more it dries and the harder it will be to remove it.
If you have pets, wipe their paws whenever they come into the house, especially if it's raining or has rained (or snowed) recently.
If you don't have a pet, get one. They're great for keeping the floors cleared of crumbs and other food items.
If you have tile flooring, keep the grout clean by mixing equal parts of water and hydrogen peroxide, and use a toothbrush to really get in there and scrub out stains. Then seal it.
RELATED POST: 53 Hydrogen peroxide hacks you need to know
Bonus floor cleaning tool for pet owners
Do you have a dog (or cat) that goes outside frequently and tracks dirt into the house every single time? We have a dog and I found this portable dog paw washer that I keep by the front door. Whenever Cooper comes in, I clean his paws one by one and dry them with a towel. No more paw prints tracked across my clean floors!
I honestly believe I have found the best floor cleaning machines for this lazy girl. They are the easiest way to have clean floors – always! When my guests bring their small children over, I no longer have to worry about their socks turning black and furry. And I can walk around barefoot without stepping on yucky things. 
I am so happy with my purchases and the results. They were definitely worth it and have made my life so much easier!''
Have you purchased a vacuum-mopping robot or a machine that vacuums and washes the floors at the same time? If you have, please tell us your experience in the comments.