Have you ever found yourself with a mess when you have no cleaning products on hand? Or in the mood to clean but you can't get to the store to get the right product? It's happened to me many times. That's how I learned how to make all purpose cleaner from ingredients I had at home.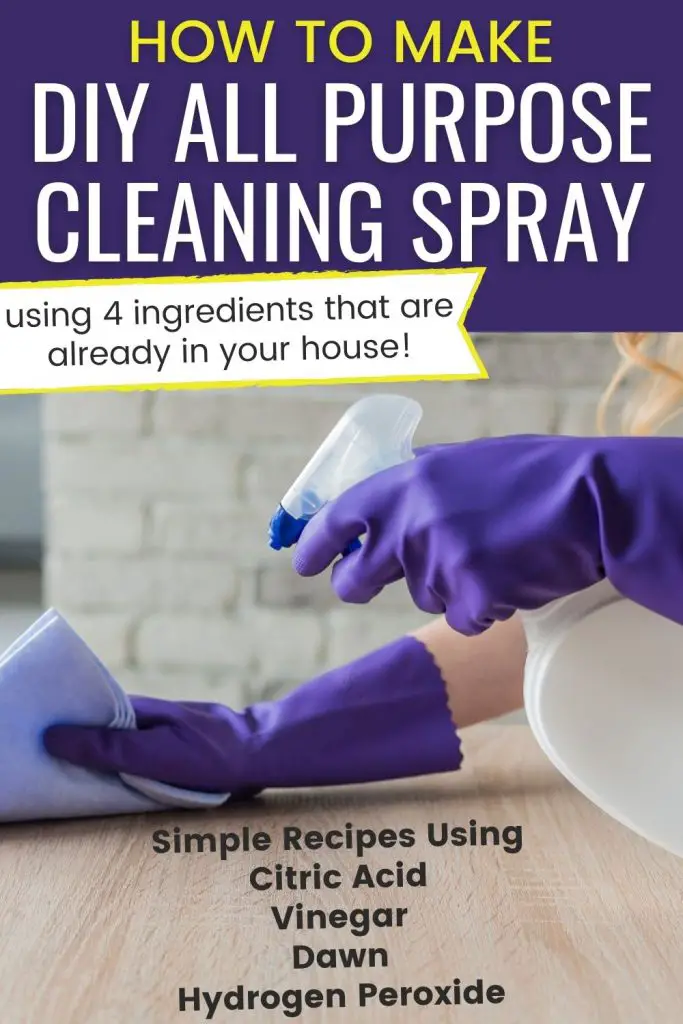 The first recipe I tried was a DIY all-purpose cleaner with vinegar. I found it very effective, especially in the bathroom and kitchen, for hard water and rust stains and general removal of dirt and grime. But the smell of the vinegar seemed to linger forever and the jugs were a bit of a pain to lug around and store.
Then I found citric acid powder and I was surprised at how well it cleaned everything without the pungent odor of vinegar. It's also very cost-effective, and is easier to transport and store than vinegar. These details helped me choose citric acid as my all purpose cleaner of choice.
I've been using Dawn for my dishes forever, and naturally used it to clean countertops after doing dishes. It does such a great job, especially on grease, that I now always have a homemade all-purpose cleaner with Dawn in my cleaning cupboard. I especially like it to keep my kitchen cabinets and appliances grease free.
Finally, like many of you, I became more concerned about disinfecting surfaces after March 2020. I wanted to make my own disinfectant cleaner with natural ingredients I already had at home. Now I make sure there's always a supply of hydrogen peroxide in the house.
As an Amazon Associate I earn from qualifying purchases. This means if you click on a link and buy something I've recommended, I get a small commission at no additional cost to you. You can see my full Disclosure Policy here
Here are 4 different ways to make these all purpose cleaners from natural ingredients found in your home.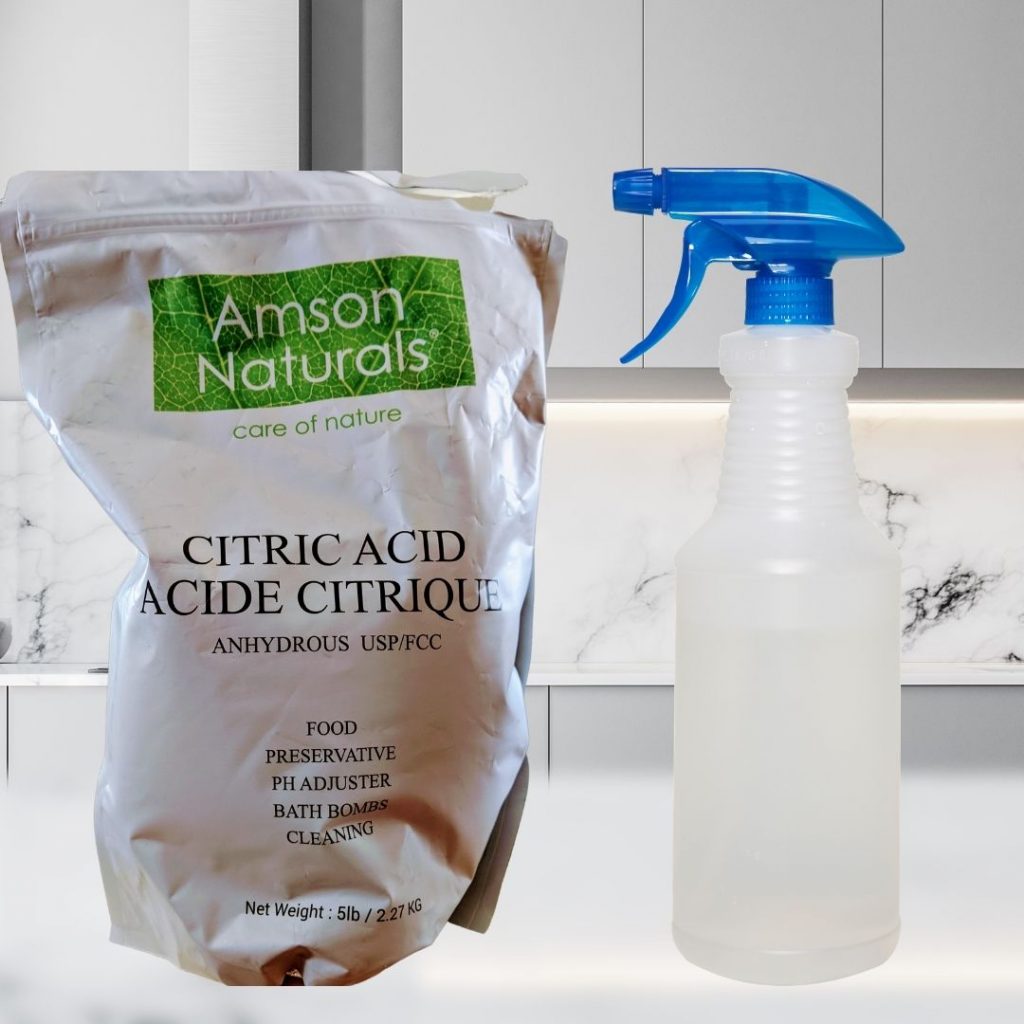 How to make all purpose cleaner (without vinegar)
You can make an effective, natural DIY all purpose cleaner with a mixture of citric acid powder and hot water. In my opinion this is the best homemade cleaning solution as citric acid is a common ingredient in many commercial household cleaning products including dishwasher detergents and cleaners, oven cleaners, bathroom cleaners, carpet and upholstery stain cleaners and more. 
Citric acid is an effective bacteria, mold and mildew killer and dissolves grease, soap scum and iron rust stains. It also has disinfectant properties that make it an excellent choice for use as an all purpose cleaner for bathrooms and kitchens. It's important to note that citric acid is acidic and not suitable for use on any natural stone surfaces such as marble, granite or travertine.
My all purpose cleaning solution recipe is to mix 2 tablespoons of citric acid powder with hot water in a spray bottle. Shake to dissolve the citric acid and it's ready to be used. Feel free to use more citric acid for more stubborn jobs.
RELATED POST: 21 Cleaning Uses for Citric Acid Powder
You can also use the solution on a vertical surface such as the sides of tubs, shower walls or doors. Just add a drop or two of Dawn dish soap and shake the spray bottle to promote suds that will adhere to surfaces. This allows more contact time for this natural all purpose cleaner to break down grease, soap scum and rust stains.
RELATED POST: How to Easily Remove Iron Rust Stains from Bathtubs, Sinks and Toilets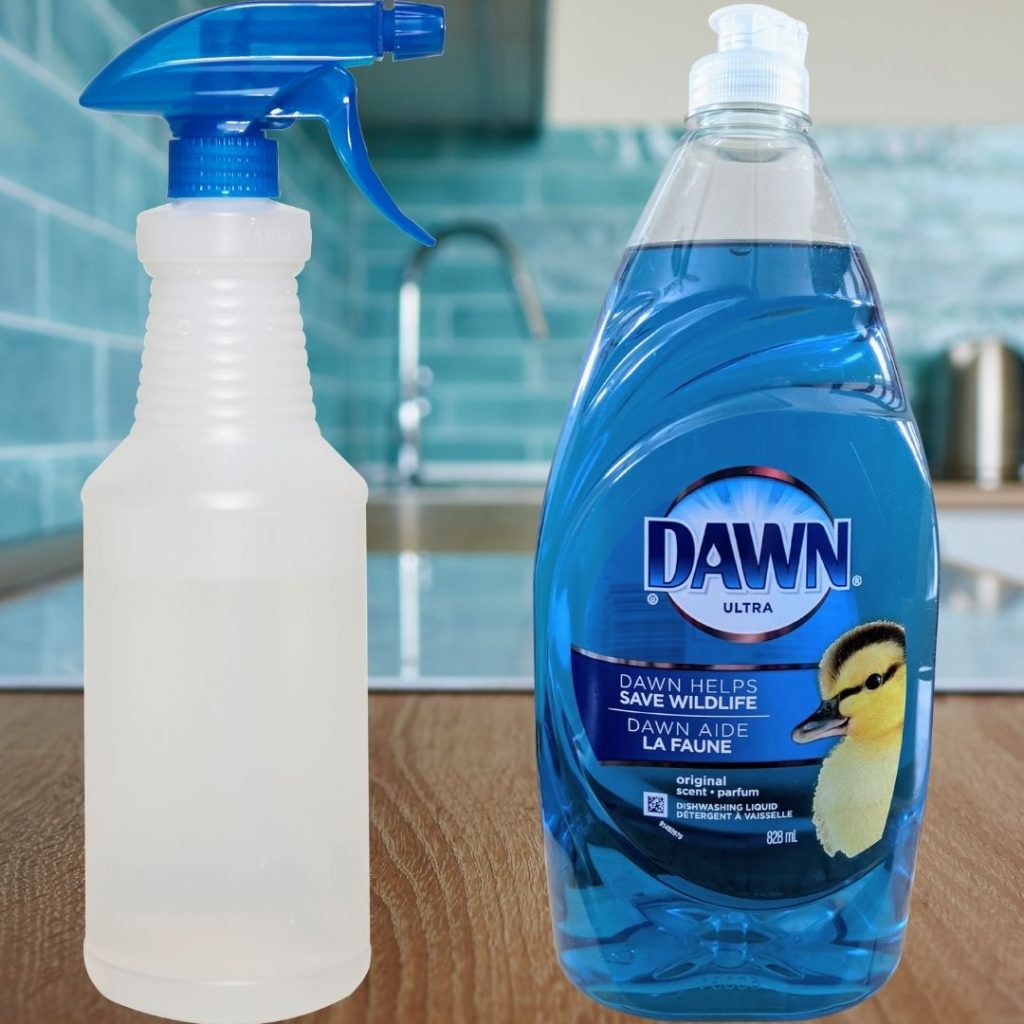 Homemade all-purpose cleaner with Dawn
Dawn dish soap is an effective detergent that removes dirt, grease and grime. Alone or mixed with water, it's an excellent all purpose household cleaner that's safe for use on most surfaces.
Because Dawn dish soap is so concentrated, very little is needed to create an effective cleaning solution. The all purpose Dawn cleaning solution recipe I use for cleaning larger areas like floors or walls is 1 tsp of Dawn dish soap in a bucket of hot water. 
RELATED POST: DIY Cleaner for your Glass Top Stove
For smaller jobs, a drop or two of Dawn dish soap added to warm or hot water in a spray bottle is sufficient. If you are using the cleaning solution to remove stains from fabrics, use cool water instead of hot to avoid setting stains.
This cleaning mixture can be used on multiple hard surfaces and fabrics and is especially good at removing grease and grime. It's also safe for use on natural stone floors, walls and countertops
RELATED POST: 42 Dawn Dish Soap Uses You Never Thought Of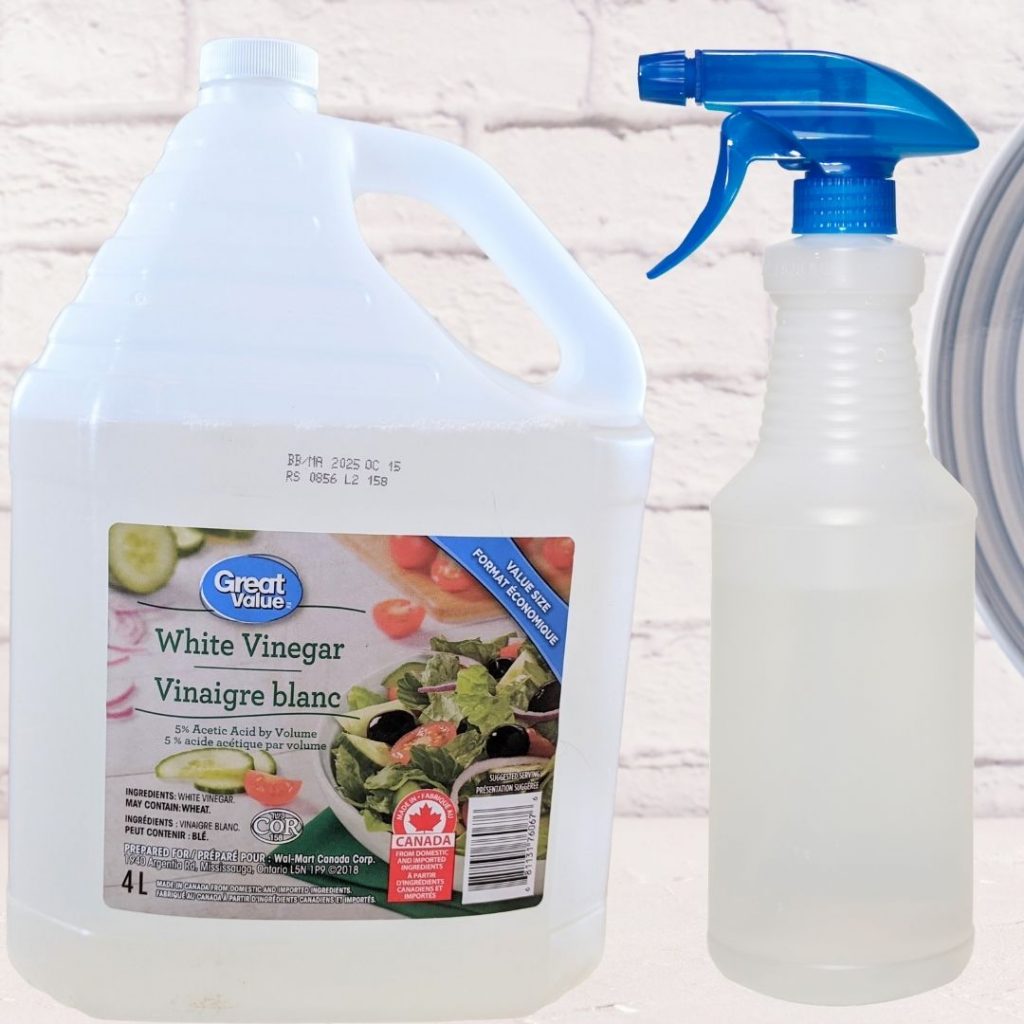 DIY All-purpose cleaner with vinegar
While I prefer using citric acid powder as I find it stronger, the antibacterial acidic nature of vinegar can also effectively dissolve mineral deposits, iron rust stains, grease, and grime. 
Mix 1 cup of vinegar with hot water in a spray bottle. This all purpose cleaner with vinegar can be used on most hard surfaces, but should not be used on natural stone surfaces as its acidity can cause natural stone to dull over time.
As with citric acid, you can also use the vinegar solution on vertical surfaces by adding a drop or two of Dawn dish soap. Shake to promote suds, spray onto the vertical surface and let sit for a few minutes. The suds will allow the cleaning solution to stick to the surface for a longer period of time.
RELATED POST: 33 Tried & Tested Cleaning Hacks that Really Work!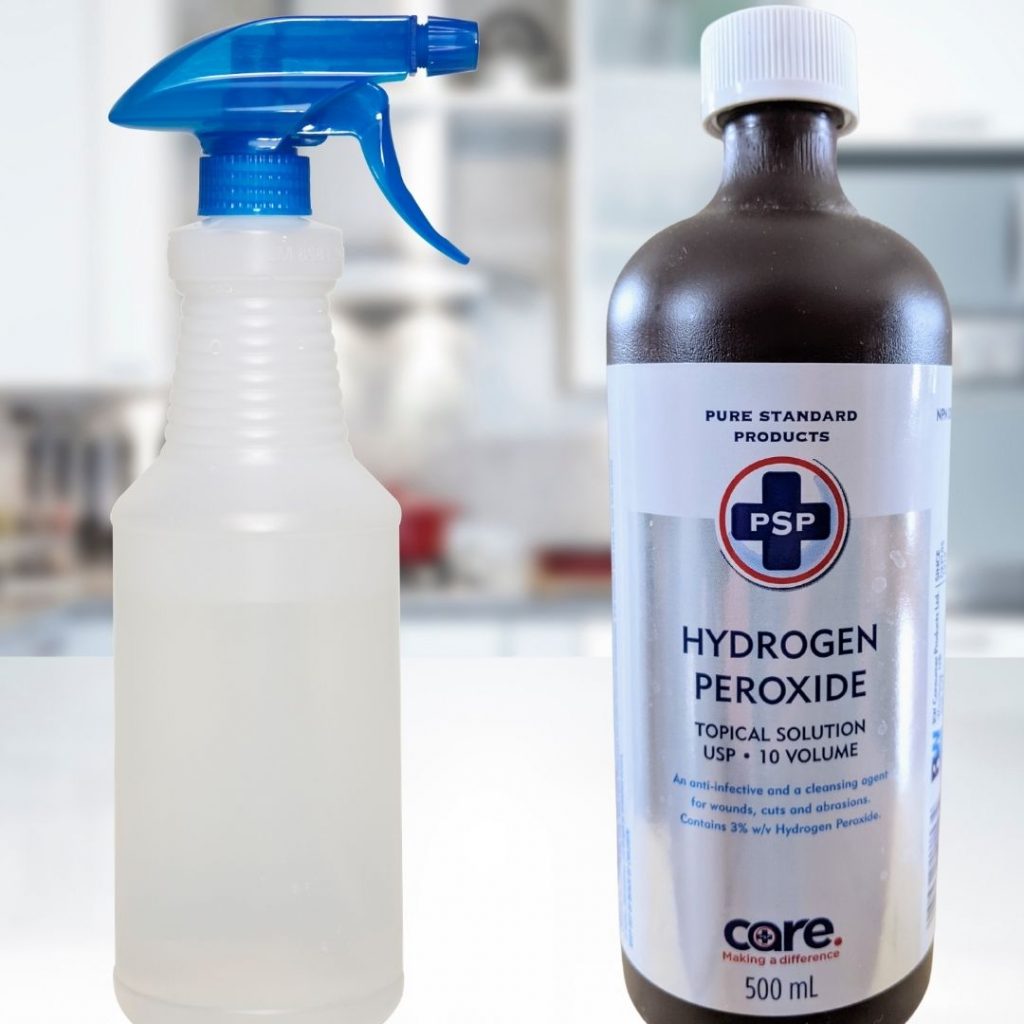 RELATED POST: 53 Hydrogen peroxide hacks you need to know
Can you make your own disinfectant cleaner?
While the all purpose cleaner recipes listed above are antibacterial and very effective against grease, grime and other dirt, they do not completely disinfect surfaces. I like to add a final step just to be on the safe side and to ensure all germs have been removed from food preparation surfaces like sinks, cutting boards and countertops.
My simple DIY all-purpose disinfectant cleaner recipe is to pour some inexpensive, environmentally friendly 3% hydrogen peroxide into a spray bottle and spray the surface that requires disinfecting. Don't mix with water and don't pour more than you can use at any given time as hydrogen peroxide quickly loses its effectiveness when exposed to light.
Let this homemade multi surface disinfectant sit for 10 minutes and then wipe with a clean cloth or sponge. Use caution on copper, brass and anodized aluminum surfaces as oxidation may cause rust may develop.
RELATED POST: 3 Simple DIY disinfectant sprays that work!
Benefits of making natural all purpose cleaner
You control the ingredients
You know exactly what's in your all purpose cleaner. This ensures that there are no unwanted chemicals in your cleaner that could harm you or your family.
Cost effective
Cleaning products are expensive. By using all natural ingredients that you have in your home anyway, you don't have to spend a lot of money for multiple products that are developed to clean specific things. It saves storage space too.
You are minimizing your impact on the environment
By using all natural ingredients in your all purpose cleaner, you eliminate any potential threat to the environment and maintain your household's air quality.
Commercial cleaning products are costly and can be full of hazardous chemical ingredients. By making your own all purpose cleaner, you can ensure that your home is fresh, clean and disinfected with natural and safe materials that don't harm the environment.
Which of these DIY all purpose cleaner recipes is your favorite? If you try them and they work for you, please share with your family and friends and follow me on Pinterest.