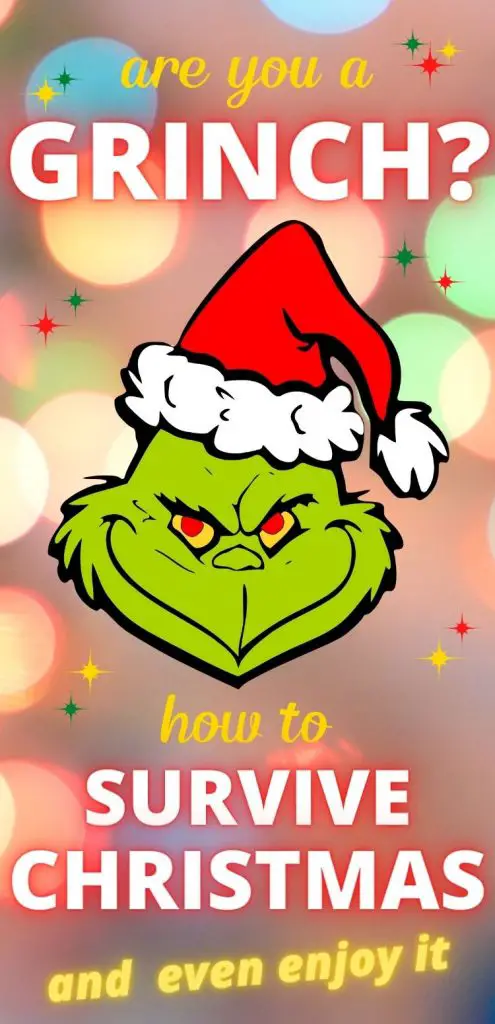 Am I the only one who hates Christmas? I have many reasons to hate Christmas, but the main reason is the blatant consumerism that drives the whole thing. The endless Holiday Season marketing extravaganza begins months before the actual holiday and ramps up everyone's expectations. And those expectations are practically impossible to meet.
It's not even Halloween yet, and there's already Christmas lights on sale beside the Halloween display at Walmart. And I swear I heard a Christmas song while I was in there.
Christmas is almost 2 months away! I'm not ready to think about it yet. Yet here I am, thinking about it and getting stressed out already.
As an Amazon Associate I earn from qualifying purchases. This means if you click on a link and buy something I've recommended, I get a small commission at no additional cost to you. You can see my full Disclosure Policy here
Why do I hate the Holidays?
When I was younger, without a responsibility in the world, I loved Christmas. Christmas meant that I was going to get presents (that I picked out of the catalogue). Our decorated house would be magical, my grandmother would make a delicious turkey dinner with my favorite sides, and I would be able to play with my cousins. And there was the added bonus of not having to go to school for a few weeks. But I wasn't responsible for any of it.
After I had my son, I loved seeing Christmas through his eyes. Our small family would go cut down our own tree and decorate it together. It was easy to shop for my son when he was young as he had no concept of big, expensive gifts. He was more interested in building forts out of the boxes and playing with his Matchbox cars on Christmas Day.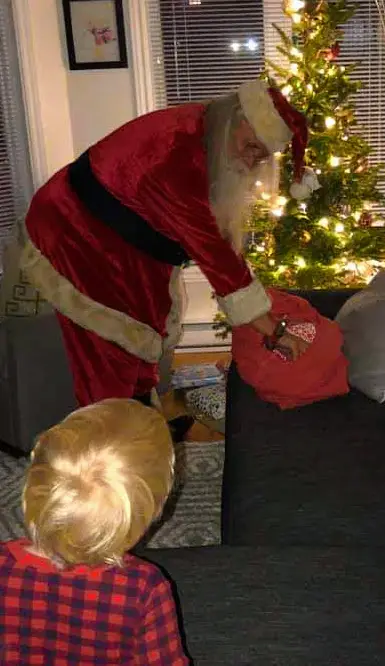 My step-dad is a dead ringer for Santa, and the wonder in my child's eyes when Santa visited him personally on Christmas Eve was heartwarming. He believed in Santa well past his 10th birthday. Christmas was perfect for him. 
But it was exhausting for me.
Once my son no longer believed in Santa, I was pretty much done with the holidays in general. I would buy the gifts and put up the tree and invite the family and make the dinner, but Christmas just didn't mean the same anymore. It just felt like a lot of stress and preparation. A lot of WORK! I hate extra work.
Why is Christmas so stressful?
There are SO MANY REASONS Christmas is stressful! On top of your regular, busy, everyday routine, you have to coordinate and plan every detail of the 'perfect' Christmas and ensure that nobody feels left out. If your family is anything like ours, it's ever-growing and evolving and more and more people need to be included every year. It's overwhelming!
And don't even get me started on the gifts. While I would LOVE to buy everyone the perfect gift for them, I don't have the budget or the psychic ability to even attempt to make everyone happy.
Reasons why I hate the Holidays
Christmas expectations
Of all the reasons to hate Christmas, other peoples' expectations have to be the worst. From gifts, to dinners, to which family members are available to participate and how they get there, it's a massive juggling of priorities to try and make everyone happy. As my parents and in-laws become older, more and more of this organizational work falls on me. It's exhausting.
Holiday Budget
I feel that the Holidays put unreasonable financial pressure on all of us. We have enough money to support ourselves and our lifestyle comfortably, but we don't have much extra. The funds we have to spend for Christmas are limited. We've become adept at managing it, but we don't have the financial ability to get people what we'd really like to get them. It can be depressing.
For example, right now my Mother needs a new car and I've been trying to help her find one. The process is overwhelming her and I really wish I had the money to just buy her one and give it to her for Christmas. But I don't.
Mom, if you're reading this, it's not happening.
Finding the perfect gift
The pressure to find the perfect gift is enormous, especially if you're a people pleaser like I am. The unrelenting commercialism, Holiday movies and Christmas songs entice you to join the buying frenzy to ensure the perfect Christmas. It's brainwashing at its finest.
I'm not the best gift giver by a long shot. I try my best, but I don't always get it right. Then I've given someone something they don't want. I've wasted my money. I hate wasting money.
Then there's the people who ask you for a list of what you want. More pressure! It's hard to come up with a list of things that you would like to have while keeping in mind the cost and difficulty of obtaining the item. I'm a self-sufficient adult and have most of the stuff I need. The things I want but haven't got yet are things that are beyond my budget, nevermind theirs.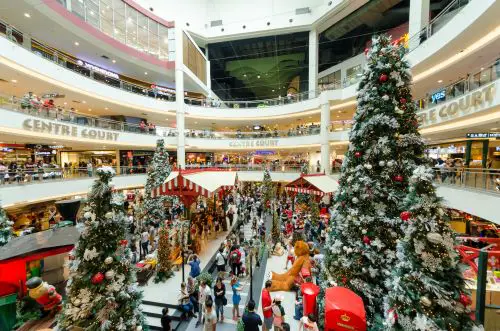 Christmas gift and grocery shopping
I've never been big on shopping in general. I don't like Christmas crowds and packed parking lots. One Christmas, I actually spent over an hour circling the parking lot trying to find a vacant spot! I especially don't like running that gauntlet only to find that the store is out of stock of the particular item I was in search of. It happens a lot!
Since the pandemic began, I dislike it even more. I don't like crowds to begin with, and the pandemic has made me even more introverted than usual. I have no desire to increase my risk of catching the virus in the name of Christmas, or anything else for that matter.
Christmas cleaning and decorating
Although I love the way our home looks when it's decorated, getting it to that point is a LOT of WORK. Putting up the tree, decorating it and the rest of the house, wrapping presents, and all the cleaning that goes along with it is difficult to achieve while dealing with everyday responsibilities like working, taking care of the dog, cooking, doing laundry and keeping the house marginally clean. Just writing that endless to-do list gives me anxiety.
My everyday life is busy enough. I don't have enough time to do everything I need to do. I'd rather not have the additional responsibilities. But I need to do it.
RELATED POST: The Easy Christmas Cleaning Guide (with Christmas cleaning checklist)
Winter weather
Another reason I hate the Holidays is the weather. Where I live, we have winter weather that starts in November, sometimes even in October. The roads become a treacherous mess, the number of parking spots dwindle, and the trek to and from the car becomes longer and colder.
And it's always dark! It seems there's only daylight while I'm at work. Every fibre of my being just wants to get home and stay home, with no stops on the way. By the time I get home, it's dark and it feels like it's much later than it is. I just want to hibernate.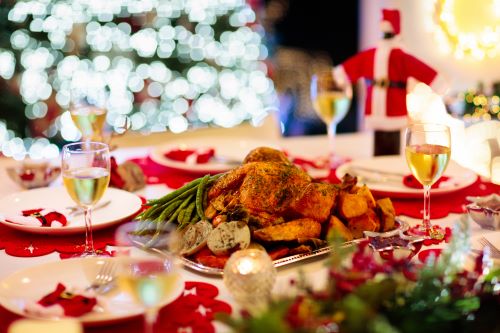 Holiday dinner
As I mentioned before, our parents are getting up there in years and no longer have the energy to entertain guests for Christmas. Our kids aren't yet established or confident enough to host the holidays. This leaves us to host everyone for Christmas dinner.
It used to be fairly easy. The kids were younger and didn't have partners. We would split things up so there weren't so many people in our small house at one time. It kept us hopping through the holidays, but I didn't have to host too many people at once. But now the kids have partners, and dogs, and now there's a new grandbaby. Everyone wants to celebrate together. 
It's wonderful and I'm thankful that our family keeps growing. But it gets more and more overwhelming each year to plan and execute Christmas dinner in a house that seems to be getting smaller and smaller. Have I mentioned I have a very small kitchen?
RELATED POST: HOW TO STOP FEELING OVERWHELMED
Family
I absolutely love my family, but when you have so many individuals in one place with different opinions and interests, it can get complicated. Not everyone wants to play the same games, watch the same shows or talk about the same things. 
And there are family members we miss that will never celebrate with us again. Being together without them is hard.
It's definitely a time of mixed feelings.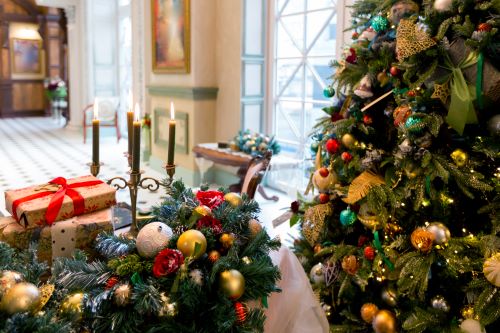 How to make the holidays less stressful
Now that I've ranted about all things Christmas that I hate, it's time to give you some hope with a rundown of what we've been doing to survive the Holidays. 
Implementing these tips into our Christmas planning has allowed us to actually enjoy Christmas without getting too stressed out about the whole thing. 
We have a renewed appreciation for twinkly Christmas lights, a warm fire (even if it's electric), a full belly and laughter shared with the family we love.
Adjust your Christmas expectations
We all have our own vision of the perfect Christmas, but the vision rarely meets the reality. Remind yourself that nothing is perfect and things will go wrong. 
Our oven thermostat blew one year and I burnt the Thanksgiving turkey. That story is now a family favorite that brings us all smiles because we survived and even ate it (the unburnt parts). And you know what? It was delicious buried in the canned gravy we resorted to.
Remind yourself that you are resilient and adaptable and can handle anything the Holidays throw your way. Keep your sense of humour and remember that you are making memories, not a movie.
In addition to adjusting your own expectations, let family and friends know what they can expect from you. If you have a strict budget, let them know. This year, everyone's on a low budget here, so we've decided on homemade gifts and acts of service for the adults.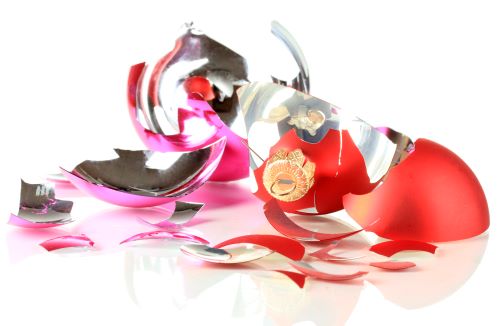 Plan ahead
I am not the most organized person. I tend to think on a more immediate basis and there have been many years when Christmas has snuck up on me and left me scrambling. I have finally learned the benefits of planning so that I'm not trying to do it all at once and getting all stressed out.
I don't mean you have to start planning for next Christmas as soon as this Christmas is over.  I'm just saying that the sooner you have it all figured out on paper, the easier it will be to execute. I generally start making my plan right after Thanksgiving.
Christmas Guests
Who will be attending the festivities? Will they be staying overnight? If they are, do you have to clean out the spare room and make it comfortable for them? Do you need to replace some old sheets? Buy more towels? 
Do you have to arrange transportation for anyone? 
Knowing the answers to these questions a few weeks, or even months ahead of time will leave you plenty of time to get ready and make arrangements, without causing stress.
Our Christmas gatherings are fairly small and most of our friends and family just stay for the day and then make their way home. But my parents live farther away so they stay for the night and we have to make sure they have a comfortable place to sleep. My mother in law doesn't drive and likes to sleep in her own bed, so we have to make transportation arrangements for her.
Christmas Gifts
Make a list of everyone you will see over the Holidays and set a budget for gifts. Think about what they might like that's in your budget. Add these ideas to your list.
Wrap your gifts as you buy them. Don't wait until Christmas Eve or you could be up very late, leaving you tired on Christmas Day. If you're tired, you're more likely to be stressed.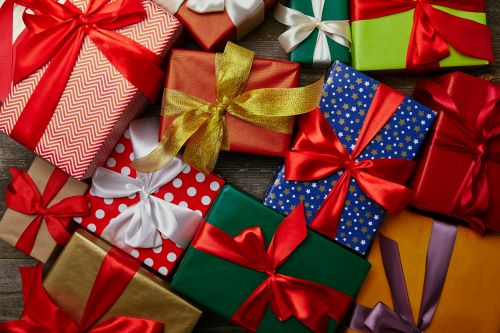 One thing we've incorporated into our Christmas gift shopping is that we don't buy gifts for anyone we won't see over the Holiday season, unless we'll be sending it to them (December 15th is the deadline). Not only does it help us maximize our budget, it also helps to avoid having to remember those gifts you put away after Christmas is over.
If you don't have the budget to buy them what you think they'd like, you may want to consider a gift card towards that purchase. Gift cards are our go-to for the Holidays, especially since we don't really like shopping.
When we do know what a particular family member wants and it's within our budget, we buy our Christmas gifts online. It's affordable, easy, and done in the convenience of our home. And it's delivered directly to our home or workplace.
Christmas Decorating
Take stock of the Christmas decorations,  Christmas cards (if you send them) and wrapping paper or gift bags you have, make sure they all work and determine if you need to buy more. If there's anything you are missing, buy it before it's time to put up the tree and decorate your home.
Planning to go all Griswald for Christmas? Don't forget to check your Christmas lawn decorations to make sure they work and buy more if you'd like, but make sure you allow time to set them up.
We used to buy a live Christmas tree and cut it down ourselves, but now we have a beautiful artificial Christmas tree. It's so much easier to put up and gives us more time to visit the local Christmas markets instead of spending our time in the snow and cold chopping down a tree and hauling it home. I highly recommend it, along with some evergreen scented air fresheners to convey that fresh Christmas tree aroma.
Christmas decorating has an added benefit. The soft glow of the twinkling lights ward off the bitter cold and provide a sense of contentment. Our home feels so cozy and the long, dark nights seem a little more bearable. I've been known to keep the lights up until the end of January for this very reason.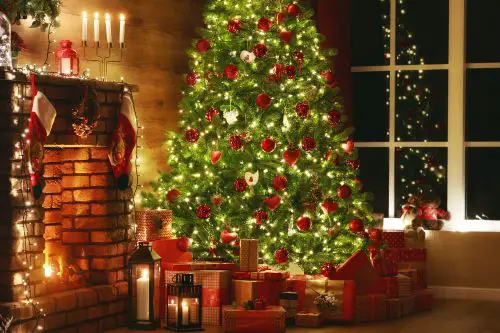 RELATED POST: HOW TO STOP PROCRASTINATING AND CLEAN YOUR HOUSE
Christmas Deep Cleaning
Cleaning your home shouldn't be that big of a deal if you have a regular cleaning schedule. If you hate cleaning and it stresses you out, here's some time saving cleaning hacks for people who hate cleaning. There's always the option to hire someone else to come clean your home, but that can eat into your Christmas budget. Remember that it doesn't have to be perfect.
Make a plan of where your Christmas tree and other decorations will go. You may need to rearrange furniture and knick knacks to fit, so keep that in mind. Also, plan where you will store anything you need to remove from the room. These handy storage totes can not only serve as temporary storage for the things you need to remove from the room, but they can also be used to store your Christmas stuff for the rest of the year.
RELATED POST: BEST HOUSE CLEANING TOOLS THAT MAKE CLEANING EASIER
Christmas Dinner
Plan your menu at the beginning of December. Are you going to have ham or turkey? Or both? Or are you going to go with beef? Based on your main course, select the sides you plan to serve. What appetizers and dessert will you need? Other snacks? Let your guests know what items they can bring to lessen your load.
What can you prepare ahead of time and serve cold or simply reheat? Preparing dishes ahead of time can make Christmas dinner much easier to manage and reduce stress.
What drinks will you be serving? Alcoholic or non-alcoholic or both? Or will your guests be bringing their own. You don't want to run out of drinks!
Once you've finalized your menu and you know what your guests are bringing, make a complete list of all the items you need to prepare your dishes, then check your pantry and fridge to see what you already have. Cross them off the list, then make a fresh list of everything you need.
One service I've discovered since the pandemic started is Instacart and I love it! Instacart lets you shop online from local grocery stores like Walmart and Costco (you don't even have to be a Costco member), then sends your order to a "personal shopper" who does your shopping for you and delivers it to you. Store options depend on where you live. They even offer alcohol and organic grocery delivery. Instacart is so convenient and relieves so much shopping stress, with the added benefit of not doing any impulse shopping. And your first order is free!
Alternatively, many of your local grocery stores now offer online ordering and pickup within a certain time frame. You park in one of the designated spots, call them, and they bring your order out and load it into your car for you with no contact.
Once you have the menu and groceries planned, you need to figure out where everyone will sit, both before and during dinner. You may want to have a fold-up table and chairs (aka the kiddy table) handy to handle your crowd. If everyone will fit at your dining table, you can always use those chairs as seating before and after dinner.
Don't forget to clean out your fridge before Christmas. All of those ingredients and any after-dinner leftovers need to be stored safely, so make sure you have enough room for them.
RELATED POST: HOW TO STOP FEELING OVERWHELMED
Don't be afraid to say No
Are you getting invited to all kinds of Christmas events that make you feel more stressed? Would you rather stay home and watch movies? Say no.
Does someone want to do a Dirty Santa and you hate useless junk? Say no.
You are the boss of you and you know your own limits. If someone wants you to do something, you don't have to. Saying no gives you a sense of control over your own life and helps you to avoid being overwhelmed. Give yourself that gift.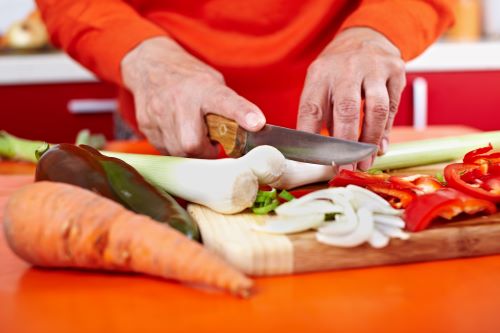 Ask for help
As I mentioned earlier, it's a good idea to ask people to bring appetizers or sides for your Holiday dinner. Most people want to help. It not only helps to relieve your burden, but it allows others to feel good about helping.
Decorating our house is a family affair. We put up the tree and decorate it together. Then we each grab some of the remaining decorations and pick an area to festify. The responsibility doesn't fall on just one person and it's fun.
We have a new tradition in our house that my mom and mother-in-law help peel and chop the vegetables. They can't stand for very long and I have a tiny kitchen, so I bring out the vegetables, a knife, peeler and cutting board, a trash bag and a pot and set them up so they can help. It makes them feel productive and it leaves me with less things to do. It's win-win!
I also ask the kids to set the table. I pile everything on the table ahead of time and ask them to set it. Once again, it makes them feel good to help (usually), and helps me check something off the list. It helps that I'm not a stickler for etiquette and don't complain about the way they do things.
You can ask family and friends to help clear the table, rinse and neatly pile dishes to go into the dishwasher, or even serve dessert while you put the leftovers away. 
Always remember people like to help. But they are allowed to say no. Don't take it personally.
Take care of yourself
It's important that you take care of yourself so you can take care of business. I'm sure you've heard the oxygen mask analogy, but I'll say it again. If you're ever on a plane that loses cabin pressure, flight attendants tell you to place the mask over your own mouth and nose before assisting others. Without an oxygen mask, you will quickly lose consciousness and be unable to help anyone else.
Here's a few ideas to help you save your sanity:
Make sure you're hydrated and that you've had enough sleep. 
Give yourself little timeouts, even if it's just for 10 minutes. Maybe even take a walk. 
Try to take some time off work before and after Christmas so you have plenty of time to get things done.
Listen to some of your favorite music or watch a movie you love.
Take a long, hot bath with a clay facial mask, candles and fizzy bath bombs. 
Read that book you've been dying to read.
The main idea is to make time for yourself to do the things you want to do. This will help lower your stress levels, raise your overall sense of well-being, and give you the strength and confidence to complete your Christmas to-do list.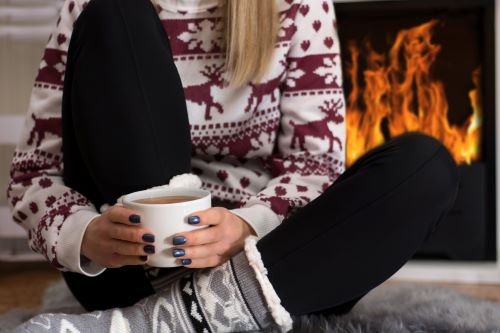 Has Christmas lost its meaning?
These days, Christmas mostly just seems like a consumerism feeding frenzy. The tremendous pressure that Christmas marketing places on us to create the 'perfect' Holiday is overwhelming to most of us. Frankly, I think it's a gigantic pain in the butt.
But the Holiday season also allows us the opportunity to spend quality time with our family and friends and enjoy them. It gives us a chance to take some time off and reconnect with people we love. To sit down and have a delicious meal prepared with love. To give gifts that show our appreciation for each other. To love and feel loved.
The most important part of the Holidays is your family and friends. If you have those relationships, you have Christmas. And, before you know it, you're enjoying the holidays.
RELATED POST: HOW TO STOP FEELING OVERWHELMED