If you're wondering what you need to have a well-equipped kitchen, this complete kitchen tools and equipment list has you covered! 
One of our basic needs for survival is the ability to feed ourselves. 
While we probably could survive without ever cooking, cooking for yourself is the most healthy way to nourish and honour yourself by acknowledging that you are important enough to make the effort. By slowly learning what you are capable of, cooking also raises your confidence and self-esteem. 
Once you start cooking for yourself, it's hard to stop. We first learn to cook to feed ourselves, then typically move on to cook for our friends and families. Cooking for others shows them we care and, through providing nourishment, creates a connection.   
As we learn what we like and what we don't like, we look for ways to make the process of creating delicious food faster and easier. Fortunately, there are many tools out there that can help us more easily become amateur chefs. That's why I created this comprehensive kitchen tools and equipment list
Maybe you're about to move into your first apartment or house (or know someone who is), or simply want to up your cooking game. In any case, this must have kitchen tools list covers everything you need for a fully functional kitchen to create delicious meals to share with friends and family. 
As an Amazon Associate I earn from qualifying purchases. This means if you click on a link and buy something I've recommended, I get a small commission at no additional cost to you. You can see my full Disclosure Policy here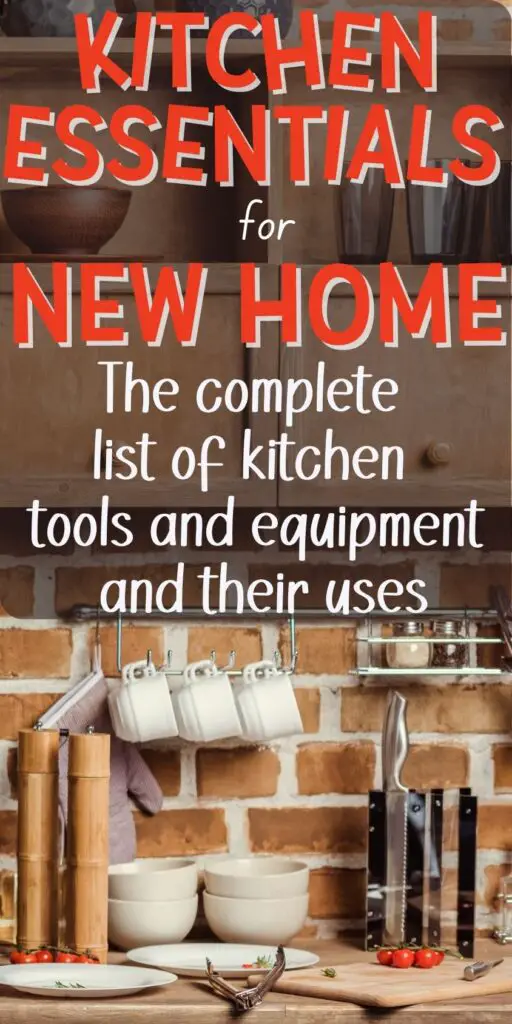 What basic kitchen items and tools should every kitchen have?
Here's a list of the basic kitchen must haves if you currently live mostly on takeout and don't plan on doing your own cooking. These items allow you to eat your prepared food and entertain in a fairly civilized manner.
Cutlery/Silverware/Flatware
I admit, when I moved into my first place with friends, I 'borrowed' cutlery from my work cafeteria as one of my first items in my kitchen. It was cheap, flimsy cutlery that soon ended up bent (from eating ice cream out of the tub) and deformed (fork tines need to stay apart) from 'normal' use. I recommend getting a good set of cutlery right from the beginning.
Cutlery Divider
A cutlery divider is necessary if you plan on finding anything quickly. Choose one based on the size of the drawer you have. And remember to wipe it out every once in a while.
Dish Set
We all need dishes to eat from. A good dish set includes plates, bowls, salad or dessert plates and some even include coffee or tea cups. It's a good idea to have a set of at least 4 so you don't have to wash dishes every time you use them and to share. Whether your taste runs to plain while or colorful patterns, the choice is yours!
Coffee/Tea Cups
If your dish set did not include coffee or tea mugs, you should probably get some. I never drank either before I had a kid, but I found a lot of my friends who dropped by wanted a cup. Now I'm a coffee drinker and I have a collection.
Glassware
We all drink liquids – water, juice, soft drinks or something stronger. A set of quality glassware helps to ensure you don't get dehydrated.
Can opener
Even the most rudimentary kitchen needs a can opener. In case of emergency, just open a can of fruit, beans, tuna or chili, and you're good to go.
Salt & Pepper Mill
Even if you're eating mostly to-go meals, some basic seasoning is necessary. A salt and pepper grinder set ensures your food is always tasty.
Corkscrew & Bottle Opener
If you're planning on hosting guests at any point, a corkscrew/bottle opener is a must-have on your kitchen list. Have you ever tried opening a bottle of wine without a corkscrew? It's not easy (or pretty) and you end up drinking little bits of cork. 
Shot glasses
If you're planning on trying out the latest cocktails at home, you will need a set of shot glasses. They are also useful for sipping on your favorite tequila.
Pitcher
If you plan on making those cocktails for more than one person, you will need a pitcher to mix them up in, or just to store the juice. The possibilities are endless! 
Kettle
Every kitchen needs a kettle to prepare hot beverages such as coffee or tea, or even instant noodles.
Storage Containers 
If you have any leftovers, you'll need something to store them inside your fridge. A good selection of food storage containers can help you organize those leftovers and ensure that nothing gets wasted.
Dish Towels & Dish Cloths
If you have dishes, you need to be able to wash and dry them. A set or two of dish towels and dish cloths will help you keep your dishes clean and, as an added bonus, can be used to wipe up spills.
Dish drying rack
You need somewhere to put those dishes as you're cleaning them. A dish-drying rack allows room for air to circulate around your dishes so they can dry before you put them away. Choose one based on the counter space you have available beside (or even above) your sink.
RELATED POST: Time-saving cleaning hacks for people who hate cleaning
What are the must-have kitchen items for food preparation?
If you're tired of eating everything take-out, you may want to start cooking your own food. Let's start with this list of essential kitchen items you will need to prepare your food for cooking.
RELATED POST: 3 Simple DIY disinfectant sprays that work!
Knives & Shears
A quality, sharp knife is the key to successful food preparation. While there are many styles and sizes of knives, you really only need 3 to start with – a Chef's knife, a serrated knife and a paring knife. Look for high quality knives as they are much sharper, heavier, and easier to use to cut and chop.
How to select good kitchen knives
Chef's knife
A Chef's knife is a multi-purpose knife that can be used for mincing, slicing and chopping fruits, vegetables and herbs, and slicing and separating meat. I recommend starting with an 8 inch Chef Knife before moving on to other sizes. 
Serrated knife
If you plan on cutting crusty bread or slicing tomatoes, this saw-like serrated knife is what you need.
Paring knife
A Paring knife has a shorter blade than a chef's knife and can be used for peeling, seeding and more precise cutting jobs such as slicing apples.
Steak knives
If eating meat is your thing, steak knives are essential. Have you ever tried cutting into a thick steak with a butter knife? It just can't cut it.
Wood knife block
A wood knife block is a great tool to safely store your knives. Not only do they help keep your knives from becoming dull, they're also a safer place to store your knives to avoid accidental cuts from sharp blades in a drawer.
Knife Sharpener
A dull blade is a dangerous blade. A dull blade can easily slip and end up cutting you. That's why it's important to have a knife sharpener to keep your knife blades nice and sharp. If you sharpen regularly, you will have a well-honed knife that never gets dull.
Kitchen Shears or Scissors 
Kitchen Shears/Scissors are designed to cut cleanly through vegetables, fruits, meat and more. They are easier to use than a knife and are great for those times when being precise isn't necessary.
If you can't decide which knives you'd like to invest in just yet, this 15 piece Kitchen Knife Set With Wooden Block is an affordable starter set. It contains all the knives you'll need, as well as kitchen shears and a knife sharpener.
Cutting board
If you want to avoid scratching your countertop, another must-have kitchen item is a wood cutting board for fruits, vegetables, cheeses, meats and herbs. They also serve as handy serving platters.
Peeler
If you've ever tried peeling potatoes or carrots with a paring knife, you know that a fruit and vegetable peeler is a time-saving kitchen tool that makes peeling so much easier.
Measuring cups and spoons
Every kitchen needs at least one set of measuring cups and spoons to measure both wet and dry ingredients to follow recipes precisely and get great results. Although both are available in plastic, stainless steel cups and spoons won't stain and will last longer.
Mixing bowls
Mixing bowls are essential for a fully equipped kitchen. Various sizes of mixing bowls are required to mix ground meats, prepare sauces, mix dry ingredients and batters, beat eggs, whipping cream and meringues, or to mix salads and dressings. Additionally, it's ideal to have different types of bowls for different applications, such as glass for the microwave, plastic for storage and stainless steel for heat tolerance.
Thermometer
If you are a meat lover, you'll need a Waterproof Digital Instant Read Meat Thermometer to ensure your meat is cooked to your preference. Make sure it's waterproof so you can wash it without worry.
Grater
If you're a cheese lover, you'll need a kitchen grater to shred that cheese and other foods. It's a good idea to look for a stainless steel grater to minimize rusting.
Zester or Microplane
If you plan to finely grate ingredients such as ginger or parmesan cheese, or work with lemon or lime zest, a zester/microplane will help you to get the job done.
Garlic press
If fine chopping is not your thing, a garlic press does the job for you. No need to even peel the garlic with some models!
Sieve
A sieve is a fine mesh strainer that is used for straining liquids (for stock or yogurt) and for sifting clumps from dry goods such as flour.
Mandoline slicer
A mandoline slicer is a flat surface kitchen tool that allows you to slice au gratin potatoes or tomato slices thinly and evenly.
Funnel set
If you ever need to transfer liquids rom one container to another, you will need a kitchen funnel set. Funnels are also useful for transferring dry goods such as rice, sugar or salt from one container to another.
Mortar and pestle
If you appreciate the subtle differences in flavor between chopping and crushing your herbs, enjoying mashing your own garlic or ginger paste, or want to crush your own spices, a mortar and pestle is a must-have. They are also useful for grinding small batches of peppercorns or other seeds.
Citrus juicer
Ok, a citrus juicer isn't a must-have kitchen item, but it is handy to have around when you need to juice more than one lemon or lime. Citrus juicers are useful to remove the pulp and seeds from the fruit, leaving pure juice.
Salad spinner
Washing lettuce and other vegetables for a salad is much easier when you have a salad spinner. Wash your ingredients in the bowl and then dry them using centrifugal force to force the water out.
RELATED POST: 10 Kitchen appliances that make life easier
What kitchen tools are used for cooking?
Once you have all the prep work done, it's time to cook your delicious food. Here's a list of cooking tools and utensils that you need to cook great meals.
Kitchen Cookware (Pots & Pans)
There are so many options out there for pots and pans that it can be overwhelming. The truth is you don't need every pot of every size to have enough. I have these types of pots and pans and they are plenty for even the largest family meal.
Nonstick Skillet
Nonstick Skillets are great for day to day cooking such as frying eggs and sauteing vegetables without sticking. 2 sizes are great if you're making pancakes for friends or family.
Cast Iron Skillet
A cast iron skillet is hands-down the best pan to sear meats when an outdoor grill is not available. It's ability to hold even heat is second to none, and it leaves a nice crust on any steak or chop. It requires special treatment as shown in the video below.
Stainless Steel Skillet
A 12 inch stainless steel skillet is essential if you like to cook pan sauces with your meats and vegetables. I use mine for perfect alfredo sauce every time.
Sauce pans
Sauce pans are necessary for boiling eggs, making gravies and sauces, or boiling vegetables. Have at least 2 on hand as each size is good for different quantities of different foods (i.e. a smaller pan for heating up canned vegetables and a larger one to boil potatoes).
Dutch oven
Dutch ovens are versatile heavy pots that can be used for baking, roasting, browning, searing, broiling, and deep-frying. They can be used on the stove and then transferred to the oven, so they're great for baking casseroles such as macaroni and cheese and stews.
RELATED POST: How To Remove Cloudiness From Glass Top Stove
Stock pot
A stock pot is a larger, thinner pot that is used for heating large amounts of thin liquid such as stock or water. You can also use it to boil large amounts of vegetables or even pasta. I use mine for tomato sauce and chili too.
Colander/strainer
If you've ever tried to drain a pot of pasta without one, you know why a colander is an essential kitchen item. The perforations in the colander allow water to drain quickly while safely containing your food.
Steamer insert
A steamer insert is used to steam a wide variety of foods, including vegetables, chicken, and shellfish. It lifts your food off the bottom of the pan and keeps it out of the water so you don't end up boiling your food.
Grill pan
If you love the look of grill marks and their crusty texture but have no access to an outdoor grill, a grill pan may just be what you need. Grill pans are heavy, they heat evenly, and the ridges allow fat to drip into the grates. 
Wok 
If you love veggies and stir fry, a wok is a must-have kitchen item. It can also double as a deep fryer, steamer or for boiling. Their deep slanted walls trap heat inside and enable food to cook much quicker than in a frying pan.
How to select your cookware
Kitchen Ovenware 
Sheet pan 
A wide, shallow aluminum or stainless steel sheet pan allows for airflow and browning. A sheet pan is a must-have for roasting vegetables and meats, or both together for a complete meal.
Roasting pan
A roasting pan with a rack and lid is a deeper pan, ideal for roasting large cuts of meats at high temperatures. The rack keeps the meat off the bottom of the pan, promoting airflow for even cooking, and leaves space to roast vegetables underneath where the meat drippings collect. It can also serve as a pan for deep casseroles. 
Broiling pan
If you want to cook thin cuts of meat and some kinds of vegetables quickly under extremely high heat directed from the top of the oven, a broiling pan is what you need as it allows air to circulate around the food. To use it, you'll need to move an oven rack to the highest possible position in the oven under the element and use the broil setting on your oven.
Ceramic ovenware
Ceramic ovenware is a must-have kitchen item as it does not react to acidic foods and doesn't leach any chemicals into food. It has a non-stick surface that is easy to clean and a durable surface that can be cleaned with scrubbing pads without scratching the surface. It is a good choice for lasagna and other tomato or citrus based casseroles and can also be used for baking.
List of Cooking Utensils
Having basic cooking utensils in your kitchen will help you to manipulate your food in the ways you need to and allow you to transfer food from one container to another. Here's a list of utensils you'll need for every day cooking.
Spoons and Slotted Spoons
Spoons and slotted spoons are larger utensils that are essential for stirring, serving and transferring food in pots and pans. Slotted spoons drain liquid from the spoon while lifting. They are available in stainless steel, silicone and plastic varieties, depending on the cooking surface you are using – i.e. stainless steel is not appropriate for non stick pots and pans as they can scratch the surface.
Spatulas
A kitchen spatula, also known as a flipper or turner, is used to lift and flip food items during cooking. Their angled edges and flat surface are easy to maneuver under different foods. There are many different shapes and types of spatulas available, including slotted spatulas that allow for draining, and silicone spatulas that are more flexible and used for scraping bowls and cookware.
Wooden spoons
Wooden spoons are useful for stirring pasta and other boiling foods as they don't transfer heat as quickly as metal. They are also useful when cooking acidic foods such as tomatoes because they don't chemically react and leave a metallic taste like metal can. They also are great with non-stick cookware as they don't scratch the surface.
Tongs 
Kitchen tongs are used to pick up food items. They have two long arms that are joined at one end on a hinge that allows them to open and close. They are available in different lengths for different purposes, such as turning meats, taking potatoes out of the oven or grabbing pasta or salad out of serving dishes.
Ladle 
A ladle is a bowl shaped spoon that is used to transfer liquids from a pot or serving bowl to a bowl. They come in larger sizes for soup or stew and smaller sizes for sauces and gravies.
Whisk 
A whisk has a long, narrow handle with wire loops joined at the end. It's used to smoothly blend sauces and gravies and to incorporate air into mixtures such as whipped cream and meringues. 
Spider 
A kitchen spider is a wire strainer shaped like a shallow bowl, but with a handle. It's used to remove and drain items from boiling water or oil.
Potato Masher
A potato masher is just like the name describes – a kitchen tool that is used to mash foods like potatoes, avocados or apples.
Silicone Basting Brush
Silicone basting brushes are durable, long lasting, and dishwasher safe. They are used to baste or apply sauces to meat, poultry or vegetables and can be used to oil pots and pans.
Oven Mitts and Pot Holders
If you don't want to burn yourself while moving around hot pots and pans, oven mitts and pot holders are a must-have kitchen item. They come in cloth and silicone varieties. Pot holders can also double as a trivet to keep your pots from burning your table. One painful lesson I learned is to never use wet cloth oven mitts when taking a roasting pan out of a hot oven – the water conducts the heat and burns you!
Skewers
Skewers are a thin metal stick used to hold pieces of food together. They are primarily used for grilling or roasting meat, vegetables, or a combination of both.
What kitchen tools are used for baking?
Everyone loves dessert, so make sure you have some. If you've already stocked up on the basics listed above, this list of must-have kitchen items for baking will ensure you have everything you need to bake delicious cookies, cakes, pies and other sweet treats.
Electric Hand Mixer
If you've ever tried to mix wet and dry baking ingredients together by hand, you know that every baker needs an electric hand mixer in their kitchen. Hand mixers do most of the work to beat, whip, and combine ingredients and save your arms from getting tired.
Cake pans
If you ever plan on baking any cakes in your kitchen, you need cake pans. They can be round, square, or rectangular and are available in several sizes. There are even specialty cake pans, but they aren't necessary unless you have a specific purpose for them.
Cupcake and Muffin pans
Cupcake and muffin pans usually have 6 or 12 individual round pockets or holders contained in the pan. If you don't have a non-stick pan, it is recommended that you use cupcake liners or you can use your silicone basting brush to grease them.
Pie plates
Pie plates are used to bake delicious pies. It's a good idea to use Pyrex pie plates because the glass evenly distributes heat and allows you to see the crust. Then you can tell when the crust is browned just right.
Glass baking dish
Glass baking dishes are useful when baking desserts that have acidic ingredients like tomatoes or citrus fruits as they won't leave a metallic taste. They also heat more evenly to ensure the centre of your brownies are cooked. Choose one with a lid so it can double as a storage container.
Rolling pin
If you plan on making your own pizza dough, pie crust or cookies, you will need a rolling pin. They can also be used for other kitchen tasks, like crushing nuts or tenderizing meat.
Pastry cutter set
If you're planning on working with pastry, you need a pastry cutter set. The sets usually contain the pastry cutter, or pastry blender, to work solid fats like butter, shortening, or lard into flour to create a dough. The other must-have in the set is a pastry scraper to help pick up, turn, and portion dough and to scrape up the little bits of dough that have dried onto the kneading surface.
Cooling racks
If you're going to put all that work into baking your own sweet treats, it's important to have cooling racks to place them on. Cooling racks allow air to circulate around your baked goods to cool them quickly and to prevent condensation that can leave them soggy.
Kitchen scales
Baking is a science. Too much flour or too little sugar can dramatically throw off the texture of a pastry, making it too dense or dry and crumbly. 2 cups of scooped flour versus a measured 8.5 oz of flour can be the difference between success or failure. As an added bonus a kitchen scale eliminates the need for multiple measuring cups and spoons, meaning you spend less time cleaning up.
What kitchen items are used for serving?
Now that you have your fully equipped kitchen and you've perfected your recipes, it's time to host a dinner party! Here's a list of a few key items that are necessary for hosting the perfect gathering.
Serving utensils
Serving utensil sets can include a slotted serving spoon, a serving spoon, a meat fork, a  serving fork, a pie or cake server and a butter knife. They help prevent 'double dipping' or a guest misplacing their cutlery while serving themself.
Ladle
A ladle is a bowl shaped spoon that is used to transfer liquids from a pot or serving bowl to a bowl. They come in larger sizes for soup or stew and smaller sizes for sauces and gravies.
Pasta server
A pasta server is a specialized, spoon-shaped fork with prongs used for serving various types of strand, ribbon or noodle pasta. A fun fact is that the hole in the middle of the spoon is commonly used to measure out a single serving of spaghetti.
Serving platters
Serving platters are used to serve anything from meats to appetizers to sandwiches to cookies. They come in a variety of sizes and shapes to suit any theme.
Serving and salad bowls 
Serving bowls are used for main dishes such as pasta or stew, as well as any sides such as salads, mashed potatoes or other vegetables. They also come in a variety of sizes.
What are the basic kitchen appliances?
So you've bought all the best kitchen items you need to cook delicious meals and bake to your heart's content. But you're tired of doing everything manually and are looking for some appliances to make the process easier. Here's our list of basic kitchen appliances that save time and make cooking easier.
Microwave oven
If you don't already have a microwave oven, you need one. Heating food on the stove or in the oven can be complicated and takes some time. Microwave ovens are quick and efficient. They channel heat energy directly to the molecules inside food, making reheating a breeze. 
Coffee maker
If you've had enough of boiling water and filtering your own coffee, it's time to buy a coffee maker. Look for a model with a timer function so you can set everything up the night before and wake up to fresh coffee.
Food Processor
If you like to cook in large batches and dread all that chopping, you definitely need a food processor. In addition to chopping, food processors can slice vegetables, chop nuts, grind meat, and much more in mere seconds. The only downfall is the cleanup afterwards.
Immersion blender
Immersion blenders are handy when you need to puree hot items, like soups or sauces. You can blend them right in the pot, without transferring hot liquids to and from a blender. They're also useful for cold drinks, but generally don't have the power to crush ice.
Blender
Blenders are ideal for making frozen drinks, smoothies, and crushing ice. They are also useful to puree soups and sauces and for making baby food. Add some alcohol to those frozen drinks and pretend you're on vacation.
Stand Mixer
If you love baking, you absolutely need a stand mixer. Although it's an investment of both money and counter space, a stand mixer comes with three blade attachments: a beater, a whisk and a dough hook. It's a workhorse that more efficiently and effectively performs your mixing, beating and kneading functions for you.
Toaster
If you love the simplicity of quick meals such as toasted bread, bagels or english muffins with butter and other spreads, a toaster is a must have kitchen appliance. Toasters are specifically designed to heat bread evenly and consistently and perform their job very well.
Toaster Oven
If you're looking for a kitchen appliance that does more than just toast bread and bread products, you'll need a toaster oven. While toaster ovens take a bit longer to toast, they can also be used to melt a cheese sandwich, broil a hamburger, or even bake a pizza if you have a large enough model.
Electric can opener
If you find you're opening a lot of cans, or if you just have a hard time with a manual can opener, it's time to get an electric can opener. An electric can opener makes opening cans easier and safer ad it uses its power to automatically turn a can as it opens the lid, preventing you from having to hold it and turn the cutting mechanism.
Panini press
If you're a hot grilled sandwich lover, a panini press will make your life easier. It's also a handy appliance for cooking other foods such as bacon and hash browns for breakfast, grilling chicken or burgers, and easy quesadillas.
Juicer
If you're concerned about health and nutrition, a fruit and vegetable juicer can help to ensure you get all the nutrients and vitamins your body requires without having to eat too much.  
Slow cooker
If you're looking for a kitchen tool that specializes in easy one-step meal preparation, look no further than a slow cooker. Slow cookers bring out the flavor in foods and help tenderize less-expensive cuts of meat. You can put your ingredients in the pot in the morning and come home at the end of the day to a fully cooked meal.
What are the most useful multi-purpose kitchen gadgets you should invest in?
Once you've mastered the basics of cooking and you're ready to take it to the next level, these useful kitchen gadgets can help make your life easier. Add these fun cooking machines to your kitchen equipment list to help you save time while producing delicious, healthy meals and make excellent gifts for any cook.
Vitamix
If you're looking for the Rolls Royce of juicers, the Vitamix serves as a juicer, blender or chopper and can blend anything from smoothies to soups to dips to batters and doughs. If you blend on high for an extended time you can even cook soups. It's easy to operate and easy to clean.
Instant Pot
Replacing up to seven kitchen appliances – pressure cooker, slow cooker, rice cooker, steamer, saute pan, food warmer, and yogurt maker – the Instant Pot is truly an all-in-one kitchen appliance. Some models even include sous vides, air frying, broiling and dehydrating functions. It's easy to use and easy to clean and cooks even frozen meats quickly.
Ninja Foodie 
The Ninja Foodi is a multi-purpose kitchen gadget that can slow cook, sear and saute. It also functions as a pressure cooker and air fryer and can even bake bread. Grill burgers, steaks, chicken and seafood, air fry chicken wings and fries, or dehydrate vegetables, fruits and meats with this indispensable piece of kitchen equipment.
Elite Gourmet Breakfast Station
The final item in our well equipped kitchen products list is for the breakfast lover. This 3 in one Elite Gourmet Breakfast Station is a one-stop coffee maker, toaster and griddle all in one. It's perfect for breakfast foods like eggs, sausages, hash browns, bagels, english muffins and more. 
Finally, the last kitchen item you need for a well-equipped kitchen is an apron to keep your clothes clean while you whip up delicious meals and desserts for the ones you love.
Let us know in the comments below if there's anything we missed that should be added to our fully equipped kitchen list. If this post helped you to create your own shopping list of must-have kitchen tools and equipment to have a fully functional kitchen, please share it with your friends and family.