We've all been there. Overwhelming responsibilities, looming work deadlines, and the uncertainty of the seemingly endless pandemic add stress to our daily lives. Whatever the reason, show the person you love that you understand their struggle with one of these thoughtful gifts for someone who needs a break.
Time-saving gifts for someone who needs a break
Anyone who needs a break knows that there's never enough time. Whether it's something you need to do or making time for something you want to do, a time-saving gift for someone who needs a break is the way to go. Here's some time management gifts that can help your loved one free up more of their time to do the things they love.
As an Amazon Associate I earn from qualifying purchases. This means if you click on a link and buy something I've recommended, I get a small commission at no additional cost to you. You can see my full Disclosure Policy here
Gifts to save time cleaning
If your loved one is spending most of their time working or chasing after children and pets, cleaning can eat up their precious time. Gift your loved one more time for themselves with this ILIFE V3s Pro Robot Vacuum Cleaner that will do their vacuuming while they relax. 
Or can gift them another one of these time saving cleaning tools that make life easier.
Gifts to save time cooking
Help your loved one save time and money with Prep Dish. With 4 healthy meal plans to choose from, you can make mealtime easier for them with the supplied meal plans, grocery lists, and instructions to make delicious, healthy meals at home. Sign them up for a free 2 week trial to see if it works for them, or go ahead and buy them a subscription.
Include an Instacart subscription so their shopping duties can be taken care of as well, saving time for more pleasurable activities.
Another way to save time cooking is with this KOOC 8.5-Quart Programmable Slow Cooker. Your loved one can place their ingredients in the cooker in the morning, start or program it, and enjoy a hot, home cooked meal later on with minimal effort.
Gifts to save time in the morning
What better way to start the day than waking up to the smell of fresh brewed coffee. Save time for your loved one with this programmable Mr. Coffee Coffee Maker. With it's high water temperature, 20% faster brewing time and handy brewing presets, this coffee maker will help them start their day on the right foot.
And to keep that coffee hot on the go, this YETI Rambler 20 oz Tumbler will keep their coffee hot until the last sip.
Planning gifts for time management
Managing your time wisely reduces stress and allows you to easily achieve your goals faster. Help your loved one achieve their goals with this Colorful Weekly & Monthly Planner. With this ultimate time management gift, they'll be able to schedule the things they need to do, set goals, create to-do lists and carve out precious time for themselves.
For more visual planners, this 3-piece magnetic dry erase calendar comes with a list notepad, eraser and 6 markers. Help them manage their time more effectively and reduce their feelings of overwhelm by seeing what's coming every time they walk into the kitchen or office.
RELATED POST: The Best Organizational Gifts: 28 Inexpensive Ideas to gift a Clutter-Free Life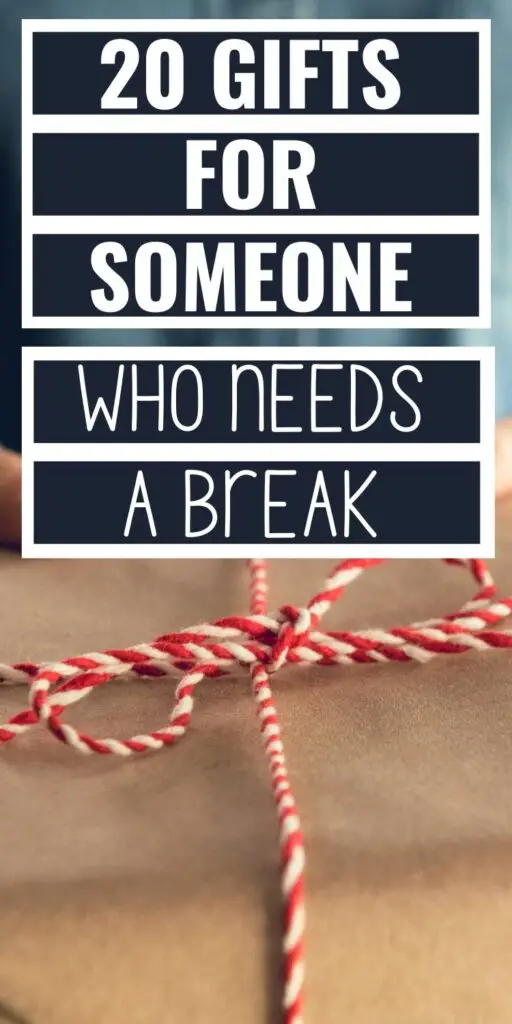 Relaxing gifts for someone who needs a break
Nothing is more essential for someone who needs a break than an actual break. Time out for self care is crucial for everyone to reduce stress, nurture themselves and sustain long-term feelings of well-being. Remind them that their needs are valuable too with these relaxing gift ideas. 
Gifts for stressed out people
Can you think of a better gift for stressed out people than a massage? This deep tissue 3D Kneading Electric Shiatsu Back Neck and Shoulder Massager adds heat to the mix to relieve tension and muscle pain. It even has a car adapter so you can use it on the go!
If your loved one is on their feet all day, this RENPHO Foot Massager relieves foot pain and the accompanying tension.
Gifts for overwhelmed people
Is your loved one overwhelmed with all the things they need to do? Maybe they don't know how to say no. F*ck No!: How to Stop Saying Yes When You Can't, You Shouldn't, or You Just Don't Want To will help teach them how to politely set boundaries and say no to requests that just don't work for them.
If they're overwhelmed with stuff and just can't seem to get organized, The Organized Home is a step by step course to creating organizing systems that make life easier. Help your loved one learn strategies to make their home more easily manageable.
Self care gifts for someone who needs a break
Help your loved one calm their anxiety, overwhelm and stress with this n.o.w. Tone Therapy System. In just 3 minutes, the calming tones allow listeners to relax their minds and recharge their spirits. These tones have an amazingly positive effect on mood and state of mind.
For those with more tactile loved ones, this Sherpa Fleece Weighted Blanket relieves anxiety and stress, helps them feel calm and relaxed, and promotes sleep so they wake up refreshed and ready for the day. 
Gifts for someone who is having a hard time
This year seems to have been particularly hard for my friends and family. Along with the pandemic, there's been breakups, employment and financial challenges, illnesses and deaths. These people need comfort, a way to unload and practical help. Here some ideas for gifts for people who are having a hard time.
Comfort gifts for someone who is having a hard time
Anyone who is having a hard time wants to feel comfortable and cozy at home. This Sherpa Lined Hooded Robe is the ultimate in comfort and warmth. This homey gift of comfort conveys feelings of safety and is perfect for someone who is having a hard time.
For your loved one who is having a hard time, the gift of music can soothe the soul. Listening to their favorite music in bed has never been more comfortable thanks to these Bluetooth Sleep Headphones. Audiobook aficionados will love them too!
Gifts to release stress
A workout is a healthy way to unload stress, process emotions, and ease our minds. A home yoga kit and yoga for beginners book can help your loved one release the stress caused by their challenges. 
Help your loved one find perspective in moments that feel out of control. This One Year Self-Discovery Journal includes prompts that offer specific themes and topics to reflect on to better understand the way they think. 
Practical gifts for someone who is having a hard time
Sometimes, the best gift for someone who is having a hard time is a practical gift. This will help relieve them of some responsibility and allow them more time to deal with their situation. A house cleaning gift card is the ultimate practical gift.
Another practical gift for someone who is having a hard time is a gift card to a meal service that delivers step-by-step recipes and pre-portioned ingredients right to their door. Most people don't think about food when they're having a tough time. Show them you care by ensuring they eat well.
What to do for someone who needs a break?
The most valuable thing you can do for a loved one who needs a break is to just be there for them. Show them that they're not alone. Let them talk and listen to them.
It's also beneficial to distract them. Take them for a walk in nature so they can see how beautiful the world really is. Turn up the music and dance with them to relieve stress and allow them to forget everything for a few minutes.
Remind them that they are strong and they can and will overcome their challenges. Help them find the positive aspects of the situation. Ask them what you can do to help.
Everyone needs a break sometime. Validating that need with a thoughtful gift can be a huge step in helping our loved ones when they are down. I hope this list of gifts for someone who needs a break helps you to help them.